LOGXON GEOSLAM ZEB-HORIZON SCAN SERVICE
In this video we show you the entire process of 3D inventory recording, processing, 3D modelling and 2D plan creation right through to finished renderings. In this process, exclusively our PORTER drone was used in conjunction with the GeoSLAM ZEB-HORIZON Mobile Laser Scanner – both of which are essential components of our GeoSLAM ZEB-HORIZON Scan Services.
GEOSLAM ZEB-HORIZON SCAN SERVICE – WE FLY THE SCANNER SECURELY USING A DRONE!
The ZEB-HORIZON Mobile Laser Scanner has a wide variety of uses. It is the first 3D mobile scanner which was also designed for use on a drone right from the beginning. We have developed our own UAV mount with damping to be able to fly the 3D mobile scanner securely and without vibrations on the drone. However, crucial for obtaining results is that the scanner is flown correctly. Our pilots have accumulated a great deal of experience over the years through flying various SLAM LiDAR scanners. Sometimes we fly the system in automated fashion, but in urban areas usually manually. Especially when it comes to the three-dimensional scanning of façades.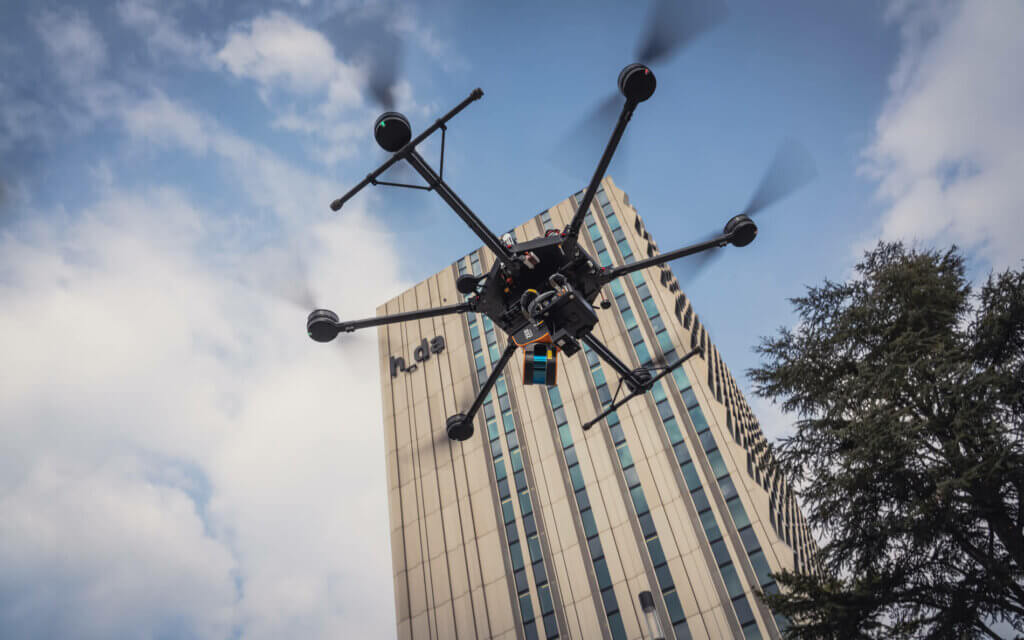 WE ACT AS A FULL SERVICE OR SIMPLY AS A FLIGHT SERVICE PROVIDER
We offer special services to do with the scanner mentioned. The GeoSLAM ZEB-HORIZON Scan Service involves the complete scanning of objects, including recording, processing and georeferencing, right through to modelling (full service).
On the other hand, we also act simply as a flight service provider if you own a GeoSLAM ZEB-HORIZON or have rented one. In such instances, we take on all the tasks concerning the flying using a drone. Our service would then range from gathering all the necessary permits through to conducting the flights with subsequent raw data transfer. We would usually fly your scanner and the processing of the data would remain entirely in your hands.
LEARN MORE ABOUT OUR FLYING DEVICES WITH WHICH SCANNERS ARE MOVED IN THE AIR
We use our in-house developed drone called PORTER to fly the scanners. This drone is specially developed for high payloads and long flight times and is produced in our small factory in the heart of Germany on Bergstraße. Visit the LOGXON PORTER page to learn more about the unbelievably flexible, quiet and secure system.
SURVEYING, 3D MODELLING AND 2D PLAN CREATION
We draw 2D CAD plans, survey surfaces or create 3D CAD models according to your specifications, based on the raw 3D data (point clouds) from the scanner. Furthermore, we create textured 3D renderings. Below are a number of examples from this project.
TEXTURED RENDERINGS
Have we aroused your interest? Send us an e-mail to info@logxon.com or call us on +49 6257 5049011