LiDAR drone terrain survey using RIEGL laser scanner VUX-1 UAV
To us here at LOGXON, the precise LiDAR drone terrain survey is the most promising drone service. We deliver precise 3D survey results as geo-referenced point clouds and digital terrain models. In order to meet the highest quality demands, we exclusively use the powerful and very precise RIEGL systems. When taking photographs in the field and also when analysing them, the resolution sought, along with the requested accuracy, plays a decisive role in assessing the time needed and the associated costs.
Our team aims at providing our customers with targeted consultation for all their needs. We believe that it is very important to discuss all of these aspects, rather than just focus on maximum resolution at the best possible accuracy, which is uneconomical in many cases. Rather, we would like to deliver results meeting all the requirements while affording the greatest yield for the customer.
SECURE FREE INITIAL CONSULTATION NOW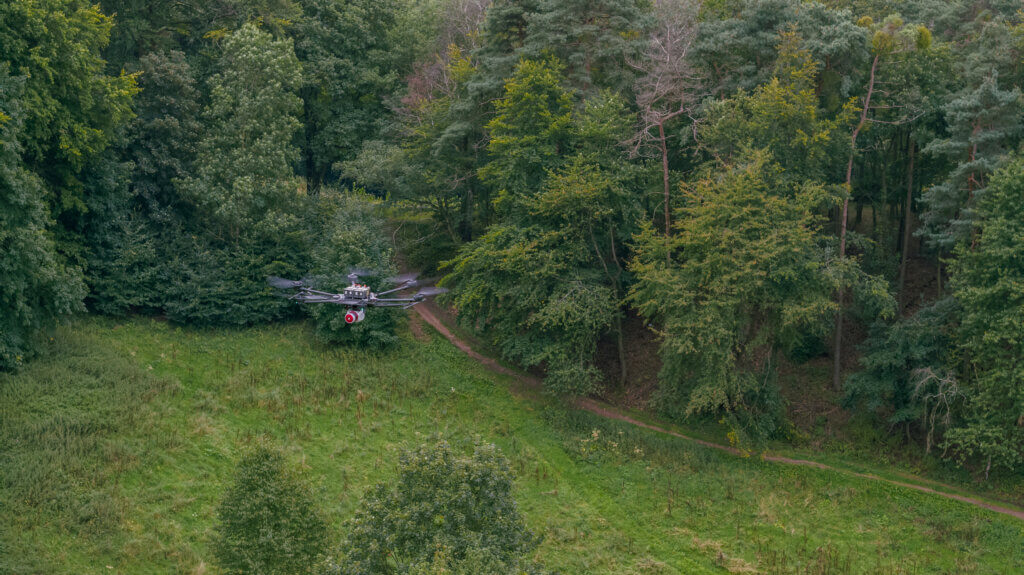 Resolution and accuracy vs. cost-efficiency
DLiDAR drone terrain surveys are often used if elevation accuracy is significant and/or if a high level of precision is required. The values of the RIEGL VUX-1 UAV sensor with 10mm accuracy and 5mm precision are the industry benchmark here.
Other key parameters include laser beam footprint and resolution in the point cloud, together with the resulting display accuracy. The smaller the laser footprint the higher the echo's position accuracy and the more reliable the penetration of vegetation.
In terms of resolution, we distinguish between point density per flight strip and overall point density. Point cloud density per flight strip is our base value when calculating projects. The information mainly results from flight altitude, speed and destination and/or ground composition (reflectivity). Adding flight strip width, ie, overlap of individual scan strips, to these values lets you derive overall point density across the surveyed area and area output per flight. In a nutshell: There is always an interdependency between cost-efficiency and requirements. Therefore, we think it makes the most sense to enquire about a clearly defined, comparable and, most of all, expedient resolution (single-shot without echoes) and accuracy.
Excerpt from data sheet on RIEGL laser scanner VUX-1 UAV

Source: RIEGL.com
LiDAR drone terrain survey: Relative and absolute accuracy
Accuracy values of a LiDAR drone terrain survey consist of two components—relative and absolute accuracy.
Relativ accuracy (precision)
Relative accuracy describes the precision (inner accuracy) of a survey in terms of the noise of the overall point cloud. Relative accuracy quantifies the degree of repeatability of a survey, ie, the degree to which the following survey will produce an identical result. A term often used in this context is "point accuracy".
Absolute accuracy (correctness)
Absolute accuracy describes the correctness of the survey result in terms of a coordinate system using check points/check areas. Absolute accuracy quantifies the degree of correctness of a survey compared to real values.
REQUEST YOUR FREE CUSTOMISED OFFER NOW
LiDAR accuracy benchmarks in numbers (RIEGL VUX-1 UAV 22):
Ground resolution (LiDAR footprint): ±3,9 cm at 100 m
Point density of single flight strip: 150-400 pts/qm at 100 m
Relative accuracy: <1,5 cm
Absolute accuracy: ±2,5 cm in xy and z-axis; +-7,5cm without GCP
You are looking for a reliable and professional service provider for LiDAR drone terrain survey? Please contact us with your requirements.
You are very welcome to contact us at any time if you are interested in our services, or to find out more. We are happy to help and provide you with a tailor-made commercially viable offer based on your needs.
Please avail of our PROJECT ENQUIRY page, e-mail us at info@logxon.com or call us on +49 6257 5049011 with your enquiries.