UAV laser scanning
We live in exciting times and 3D technology is developing at a tearing pace as never before, UAV laser scanning is becoming more and more relevant. The demand for 3D data, especially coloured point clouds, is enormous. Even UAV LiDAR scanners for surveying flights over objects, surfaces, industrial facilities and even forests are advancing.
UAV laser scanning and LiDAR technology
The scanners, which are mostly built based on Riegl scanners or Velodyne Pucks, are currently still very expensive, but already deliver very good results these days. Scanning points taken using UAV LiDAR result in a dense and mostly textured (colour) point cloud following processing, which permits precise measurements, documentation, realistic views and panoramas.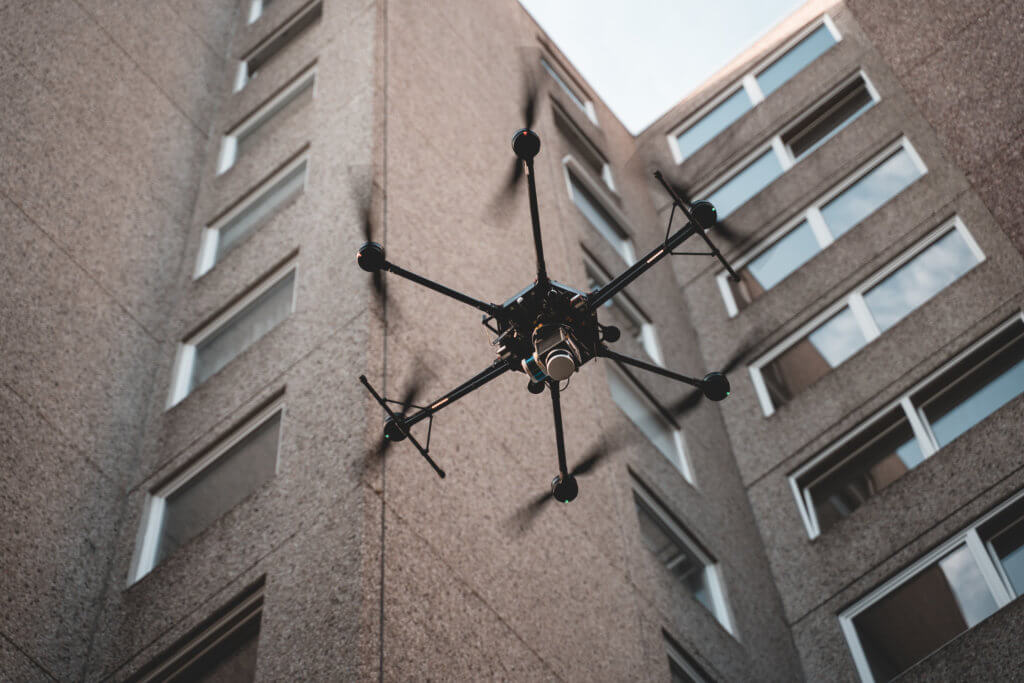 LOGXON offers the following services relating to UAV LiDAR scanning
We boast a fleet consisting of flight platforms for flying a wide range of LiDAR sensors, as well as experienced, globally licensed pilots, who control UAVs fitted with LiDAR scanners reliably and efficiently. Integrating scanners from the brands RIEGL Laser Measurement Systems, Phoenix LiDAR, dotscene and YellowScan is possible within a short period of time, since matching mounts and interfaces are already available. As a full service provider, we also take care of procurement/rentals and the integration of a project-specific laser of your choice. Furthermore, we are currently working on fitting our own UAVs with LiDAR scanners to expand our service portfolio.

Kombination und Erweiterung von terrestrische
Combining and enhancing terrestrial LiDAR scans with UAV data
3D point clouds generated by UAV laser scanning and UAV photogrammetry can be combined with the point clouds from other sensors which are usually deployed on the ground (terrestrial LiDAR scanners). The data logging from UAV LiDAR combined with LiDAR scan data from the ground has great appeal, because you get a complete, detail-rich and seamless 3D point cloud through the linking with and enhancement by various exposure angles and altitudes.
From a particular altitude, UAV LiDAR scanners take over from the terrestrial laser scanners, because the UAV scanners can be used everywhere where the LiDAR scanners on the ground no longer capture sufficient information, but precise surveying in a three-dimensional space must still be performed.
With dense point clouds in a three-dimensional future
In summary, both laser scanning and photogrammetric methods enable the quick, contact-free, high-precision capturing of buildings, landscapes and objects with a very high point density. We at Logxon are ready to advise you on the right method or a combination of methods for your project. We act as a full service provider and offer a professional team which covers all work steps, from planning, execution all the way through to point cloud evaluation.